Raymond Masterson Mechanical Services Ltd carried out the bespoke fabrication of a SS316 SF-4 ASME/BPE Nitrogen Filling Nozzle with a Mirror Polish Finish for one our Pharmaceutical clients  in our Stainless-Steel Fabrication Workshop based in Ballina, Co. Mayo where we carry out a large range of custom builds and installs.
The pipe sizes included in the nozzle were 3/8" & ¼" and were GTAW Orbital Welded to the ASME/BPE specifications as per our ASME/BPE & EN standard procedures. The Filling Nozzle also had fabricated SS316L specially machined parts finished to a RA Surface Finish of 0.38 RA. The fill nozzle was NDT Inspected by IPEC Inspection (3rd Party Inspectors) on behalf of the client.
A detailed documentation package was also provided to the client that included printouts of RA Surface Finish inspections & certification of the final surface finish.
The Services RMMS Ltd provided as part of the contract included:
Machined Parts
Fabricated Nozzle
GTAW Orbital Welding
NDT Inspection
RA Surface Testing
Pressure Testing
Soft Copy Documentation Package.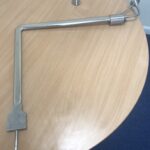 23rd July 2020
Categories: