Raymond Masterson Mechanical Services Ltd fabricated ASME BPE SF1 and SF-4 Electropolished Parts as requested by clients to their exact specifications & requirements.
We sourced specific tube, fittings and Diaphragm Valves through our approved suppliers.
All spool pieces are fabricated in our workshop, 100% NDT visually inspected and recorded, Pressure Tested, Degreased and Passivated with a complete documentation package attached.
Prefabrication of the spools allows us to reduce our time on site meaning our clients have less production downtime.
For more information please click on the link below
www.rmmsltd.ie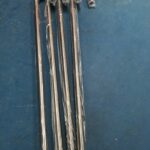 #RaymondMastersonMechanicalServicesLtd
#irish #manufacturing #pharmaceutics #processengineering #mechanicalengineering #GTAW #serviceability #welding #orbitalwelding #stainlesssteel #pharmaceutical #fabrication #pipework
#prefabrication #ireland #mechanics #documentation #ndt #steelfabrication #tank #installation #custom #workshop #iso
7th October 2021
Categories: